Farm-Mill-Store
SOCKS FROM YOUR LOCAL SPUN FIBER (Mill Yarn)
We offer to make flat knit socks from your animal' fiber that has been spun on cones into specific weight yarn (lace weight). The yarn needs to be thin  ~ 2/12 (3360 yards per pound).  It should be spun loosely on the cone (like a sponge) and with a good twist so it doesn't pull apart as it goes through the industrial knitting machine. We recommend it be 2ply and a yarn blend of nylon and/or merino (20% or more ) for sock durability and stretch. The yarn needs to be as free as possible from bumps, knots or straw. Your yarn will run through the machine with a small amount of nylon and elastic along with it; 6% nylon and 2% elastic (black or white nylon, depending upon your yarn color). (note: logos are exclusively knit on our Frog Creek line of alpaca socks, not on mill yarn) Please contact us if you would like further information.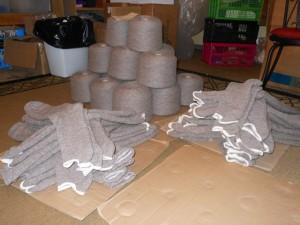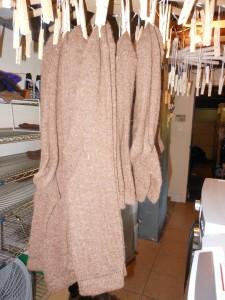 Mills who may be able to spin your animal fiber into sock yarn for textile sock knitting machines:
Please note that due to yarn quality, thickness and mechanical/human error and tension adjustment on the knitting machines, we cannot guarantee the sock yield for your yarn. There is generally 5 – 10% scrap. We send back all scrap yarn and bill only for undamaged sock pairs. Softness, width and sock stretch are dependent upon the yarn/blend we receive. We adjust the tension on the yarn as it goes into the knitting machine, using our standard sock program,  but other than that it is the yarn that will determine the sock structure. We may need to return yarn that causes work stoppages ( i.e. needles breaking, yarn thickness or excessive knots/bumps/straw) with the knitting machine.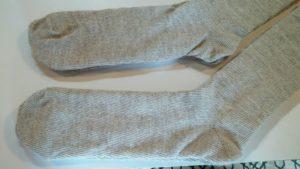 Many one ply yarns will twist going into the machines, causing misalignment of the heel and toe (see picture) and inconsistency in sock thickness .
Our sock sizes tend to run a little big. Some yarns will shrink in wash more than others.
We would like our customers to be happy with the product made from their yarn grown from their fiber animals and we take great care running it through the knitting machine with the least amount of scrap possible. 
Send us your yarn cones or the local spinning mill may be able to forward your spun fiber directly. Allow up to six months for mill yarn orders or contact us for current estimated turn around time. We strive to complete sock orders as quickly as possible. We are a small, home business and the socks are knit on textile machines and then hand processed (toes sewn closed, cool water light wash, pressing).  
Thank you!
Steve & Kathy Katsarakes, 779 N. Limekiln Pike, Chalfont, PA 18914
Socks from local fiber/Mill Yarn can be knit in Lightweight flat knit in short & crew length and adult sizes small, medium and large.
The estimated average sock yield is around 10-14 pair/2lb yarn cone for Lightweight Flat Knit crew socks 
We suggest that you use the order form below. (You may also include, sock style choice number estimates with your yarn shipment or by phone or e-mail.)